alcohol & tobacco compliance
tobacco compliance checks
Why Do We Have Tobacco Inspections?
Federal Food Drug & Cosmetics Act was amended on December 20, 2019 to raise the legal age for the purchase of tobacco from 18 to 21 years of age.
The SYNAR Amendment: In July 1992, Congress enacted the Alcohol, Drug Abuse, and Mental Health Administration Reorganization Act (P.L. 102-321), which includes the Synar Amendment (section 1926) aimed at decreasing youth access to tobacco. This amendment requires States to enact and enforce laws prohibiting the sale or distribution of tobacco products to individuals under 18 years old. To determine compliance with the legislation, the amendment requires each State and U.S. Jurisdiction to conduct annual, random, unannounced inspections of retail tobacco outlets and to report the findings to the Secretary of the U.S. Department of Health and Human Services (DHHS). States that do not comply with the requirements set forth in the amendment are subject to a penalty of 40 percent (40%) of their Federal Substance Abuse Prevention and Treatment (SAPT) Block Grant funding.
Federal law dictates that Montana must reach an 80 percent compliance rate in order to retain Federal Block Grant Treatment Funds. Compliance is measured by conducting unannounced inspections of 575 randomly selected, licensed tobacco merchants annually. We use a federally approved process for every aspect of these inspections. As part of the state's commitment to lower the rates of sales to minors, re-inspections are conducted at up to 50% of the outlets found to be in violation during the random unannounced inspections. These inspections are not included in the Synar Compliance Rate calculation, but are helpful in ensuring the future compliance of violating tobacco outlets. In addition to these inspections, the state conducts an average of 625 additional inspections that are also not included in the Synar Compliance Rate calculation. This is another strategy employed to lower the rate of sales to minors.
YOUTH ACCESS TO TOBACCO MONTANA CODE 16-11 PART 3:
16-11-305 MCA: (1) Sale or distribution of tobacco products to persons under 18 years of age is prohibited, whether over the counter, by vending machine, or otherwise.
(2) If there is a reasonable doubt as to the individual's age, the seller shall require presentation of a driver's license or other generally accepted identification that includes a picture of the individual.
ENFORCEMENT REQUIREMENTS:
16-11-309 MCA. Inspection and notification of violation required. (1) The Department of Public Health and Human Services shall conduct inspections of persons selling or distributing tobacco products to determine compliance with 16-11-303, 16-11-304, 16-11-305(1), 16-11-306, and 16-11-307. Inspections are conducted by a trained adult accompanying the trained minor, age 15 to 17. The minor attempts to purchase a tobacco product. The adult witnesses and reports the inspection transaction.
16-11-310 MCA. Minors not liable for possession. An individual under 18 years of age assisting in the enforcement of this part is not liable under a civil or criminal law for the possession of a tobacco product possessed for the purposes of enforcing this part.
SALE AND DISPLAY REQUIREMENTS:
Sale of tobacco through vending machines is restricted to businesses where alcoholic beverages are sold and consumed on the premises. The vending machine must be positioned within the direct line-of-sight supervision of the owner or an employee of the establishment. Tobacco vending machines must contain only tobacco products.
Distribution in other than sealed packages is prohibited, and single cigarettes may not be sold. A retail seller of tobacco products shall conspicuously display, at each place on the premises at which tobacco products are displayed and sold, a sign that is to be provided without charge by the Montana Department of Revenue. This sign states: "Montana law prohibits the sale of tobacco products to persons under 18 years of age".
16-11-308. Civil penalties — license suspension — tobacco education fee.

First through Fourth Violations: $25 education fee payable by the clerk
Fifth Violation: $25 education fee payable by the clerk
$500 education fee payable by the owner
Sixth Violation: $25 education fee payable by the clerk
Owner's tobacco license is suspended for three months
Seventh Violation: $25 education fee payable by the clerk
Owner's tobacco license is suspended for one year

This applies to violations that occur within a three-year period. If, after two years from the first violation, there have been no further violations, then the next violation is considered a first violation.
ALCOHOL COMPLIANCE CHECKS
Alcohol is the number one drug of choice for Montana youth and retailers are expected to follow the law as required by their specific licensing by not selling alcohol to anyone under the age of 21. The 2016 Montana Prevention Needs Assessment indicates forty-four (44) percent of Montana's seniors had consumed alcohol in the past thirty days. Because the human brain continues to develop into the mid 20's, alcohol can be detrimental to the developing adolescent brain and can interfere with the decision making process (National Institute on Alcohol Abuse and Alcoholism http://pubs.niaaa.nih.gov/publications/arh284/205-212.htm). Establishing a deterrent system is a matter of public safety.
To prevent underage drinking, licensees are held accountable through alcohol compliance checks.  Keeping a vigilant effort to keep compliance rates in an acceptable range requires many collaborative partners and local community support. Havre's HELP administers our state's alcohol compliance check program and in doing so has established a clear and equitable, standardized, statewide framework for performing compliance checks which requires retailers to follow the protocol for checking ID's before selling alcohol.
Alcohol Compliance Checks (Inspections):
Alcohol Sales Compliance Inspections are law enforcement activities conducted by law enforcement officers working in conjunction with Confidential Informants (CI's). CI's are 18 to 20 years of age and have had no adverse law enforcement contact in the previous 24 months. CI's, working with undercover law enforcement officers, will attempt to purchase alcohol from servers and sellers. Servers and sellers who refuse to sell to our CI's will receive notification of their excellent performance by the State within a few weeks. Servers and Sellers who illegally allow our CI's to purchase alcoholic beverages will be cited by law enforcement officers and will have to appear in court, pay fines, face possible jail time, and be liable to their own company discipline procedures including possible termination. The Montana Department of Revenue Liquor Control Division is notified of these citations and will contact the establishment in regards to them.
Reward & Reminder Surveys
Tobacco Reward & Reminder
Reward and Reminder is an educational survey program that was developed by the Department of Public Health and Human Services to educate and remind all tobacco product selling retail establishments that it is a violation of Montana code 16-11-305 to sell or distribute tobacco products to persons under 18 years of age. Reward and Reminder is not a "sting" operation nor is it an attempt by any agency or person in any capacity to catch anyone in an illegal act. In fact, care is taken to ensure that there is no illegal act committed by any party during a Reward and Reminder survey visit. There are three parties involved in a Reward and Reminder visit:
RETAIL EMPLOYEE – The purpose of the survey visit is to educate and/or reward the retail employee for their efforts to keep tobacco out of the hands of minors. Because the tobacco sale is never completed in a Reward and Reminder visit, no illegal transactions are committed by the employee.
MINOR SURVEYOR – Normally an underage person attempting to purchase tobacco products is in violation of MCA 45-5-637. However in the case of Reward and Reminder surveys and official inspections, MCA 16-11-310 removes liability under civil or criminal law for individuals under 18 years of age who assist in enforcement of Montana Code.
ADULT SURVEYOR – The adult surveyor watches the transaction and makes a determination of whether the retail employee showed intent to sell. "Intent to sell" is a judgement call based on established program criteria.
The adult surveyors will give a Reward or Reminder card to the clerk based on their best judgment and established Reward and Reminder rules and definitions. At all times, Reward & Reminder personnel do their best to not embarrass the clerk or interrupt the business. We do our best to make survey visits positive, helpful experiences for the surveyed business and the employees we interact with.
Retail employees who refuse to sell tobacco proucts to minors are given the blue "Reward" card. This is the initial reward…our thanks and recognition of a job well done. Additionally, if the employee fills out the blue card and mails it in, they are enterred in a quarterly drawing for a $100.00 gift card.
Alcohol Reward & Reminder:
Alcohol Reward and Reminder is another educational survey program. It is conducted by HELP Committee employees and young looking persons of legal age, specifically 21 and 22 year olds. The purpose of this program is to survey alcohol outlets and see if they are checking for ID's of any person who could reasonably be younger than 35 years of age. If a server or seller, under program criteria, does not check for an ID, they are given a "Reminder" card that has Montana's laws printed on it. This reminder helps the server or seller to remember what Montana's law is so that they do not accidently sell to an underage person. If they ID and refuse to sell alcohol based on the failure to provide an ID, our surveyors will present the clerk with a "Reward" card that enters them into a quarterly drawing for a $100 gift card. They are also thanked for doing a great job by our surveyors. Because this program is educational, there is no possibility for anyone to break the law and specific outlet performance is NEVER reported. Statistics for this program are reported as aggregate data with warnings that the data is reliant on judgement calls of the surveyors.
alcohol & compliance check &
reward and Reminder Survey
WHAT IS REWARD & REMINDER? IS THIS A "STING"? – Some people refer to compliance checks as "stings", but that is not accurate because it is a survey rather than an official inspection. The surveys are done for educational purposes only. We want to remind servers & sellers that State & Federal law prohibits the sale of age restricted substances to people under the age of 21. We also want to reward clerks who do the right thing (asking for ID and refusing tobacco sales to the underage) by personally thanking them and giving them the opportunity to enter a quarterly drawing for a $100 gift certificate.
WHY DID I GET SURVEYED? AM I OR IS THIS BUSINESS BEING SPECIFICALLY TARGETED? – Surveys are assigned to every business in a county that sells alcohol or tobacco rather than to an individual business. No single individual or business is ever targeted and we do not assign surveys based on customer reports or complaints.
HOW ARE TOBACCO SURVEYS PAID FOR? WHY ARE THESE SURVEYS TAKING PLACE? Surveys are not paid for by Tobacco Settlement money. In 1992, Congress passed the Synar amendment. It mandated the reduction of youth access to tobacco products as a condition of receiving all of a States Federal block grant funds for substance abuse prevention and treatment. DPHHS contracts these surveys because they have proven to be essential to reducing youth access to tobacco in Montana.
ARE SURVEYS LEGAL? ISN'T IT ILLEGAL FOR MINORS TO ATTEMPT TO PURCHASE TOBACCO? – Surveys and inspections are required by Montana law and cooperation with them is a condition of your possessing a tobacco license. Minors are usually prohibited from attempting to purchase tobacco products, however in the case of Reward and Reminder surveys and official inspections, MCA 16-11-310 removes liability under civil or criminal law for individuals under 18 years of age who assist in enforcement of Montana Code.
IF I GOT A REMINDER, AM I IN TROUBLE? – Reward and Reminder functions like an official inspection, but because the buyer never completes the sale of the alcohol or tobacco item, no violation takes place and no fine or administrative sanction is made. A reminder card is received because, in the judgment of the lead surveyor and in conjunction with established program criteria, it appears that a server or seller would have been willing to make a sale. The server or seller has not broken the law and is simply receiving a friendly reminder of what the law is. This is not intended to embarrass the server or seller and they have the option to disagree with our surveyor's opinion.
WHAT IS AN "OFFICIAL INSPECTION" AND HOW DOES IT DIFFER FROM A SURVEY? – Official inspections are an ongoing activity. They are assigned randomly throughout the state. These are completed for enforcement purposes and the confidential informant will purchase the alcohol or tobacco. If a confidential informant completes a sale, it is a violation and there will be a notification of the violation and its consequences. Unlike alcohol, notifications of tobacco violations are not given immediately as they are a civil, rather than criminal, violation of the law.
WHY AM I BEING SURVEYED SO OFTEN? ARE YOU SURE I'M NOT BEING TARGETED OR HARASSED? – Because surveys are conducted by county and the individual surveyors decide on their own schedule within a set of dates for start and completion of their assigned counties, sometimes a business will seem to be being surveyed often. That is usually followed by a seemingly longer period between surveys. Don't let this make you complacent…official inspections can take place at any time during the year. We just want you to be prepared for these inspections, to ID every person who could reasonably be under 21, and refuse alcohol or tobacco sales to underage patrons.
WHY IS THIS MY RESPONSIBILITY ANYWAY? – Every job comes with responsibility. If you sell age restricted products, refusing sales of alcohol or tobacco products to the underaged is one of yours. It would be great if kids never tried to purchase alcohol or tobacco from a retailer, but sometimes they make poor decisions. You are the first line of defense for the young people in your community and we thank you for your efforts in keeping age restricted products out of the hands of minors.
Contact Us: 1-877-IDMINOR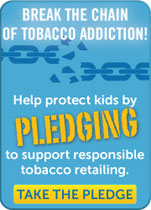 PAST REWARD & REMINDER WINNERS:
TOBACCO WINNERS 2019-2020:
Qt. 1 Mariah B.; Choteau
Qt. 2 Sandra K.; Sidney
Qt. 3 Heide M.; Havre
Qt. 4 ChristiAnn D.;  Grassrange
ALCOHOL WINNERS 2020-2021:
Qt. 1 Emma H.; Miles City
Qt. 2 Katie V.; Ft. Benton
Qt. 3 Daniel L.; Libby 
Qt. 4
TOBACCO WINNERS 2021-2022:
Qt. 1 Zachary Z., East Helena
Qt. 2 Lynn B., Billings
Qt. 3 Lisa A., Butte
Qt. 4
ALCOHOL WINNERS 2021-2022:
Qt. 1 Cheyenne M., Three Forks
Qt. 2 Shannon H., Missoula
Qt. 3
Qt. 4